A Novel Approach To Improving Cancer Care
New in-vitro diagnostics are needed to monitor and predict cancer metastasis. This would help stratify patients for optimal treatment and follow-up care. We are developing cancer diagnostics that will give clinicians the power to detect and predict metastasis with high specificity and sensitivity.
New therapeutics for blocking metastatic cancer are important in both early prevention while therapeutic decisions are being made and expanding patient survival. We are working on a new set of blocking molecules that inhibit the ability for the cancer cells to bind and enter the circulation. The diagnostic offers a novel companion diagnostic for this exciting treatment.
With these tests we will redefine the cancer care pathway.
Contact us on ryan@MetaGuideX.com
---
---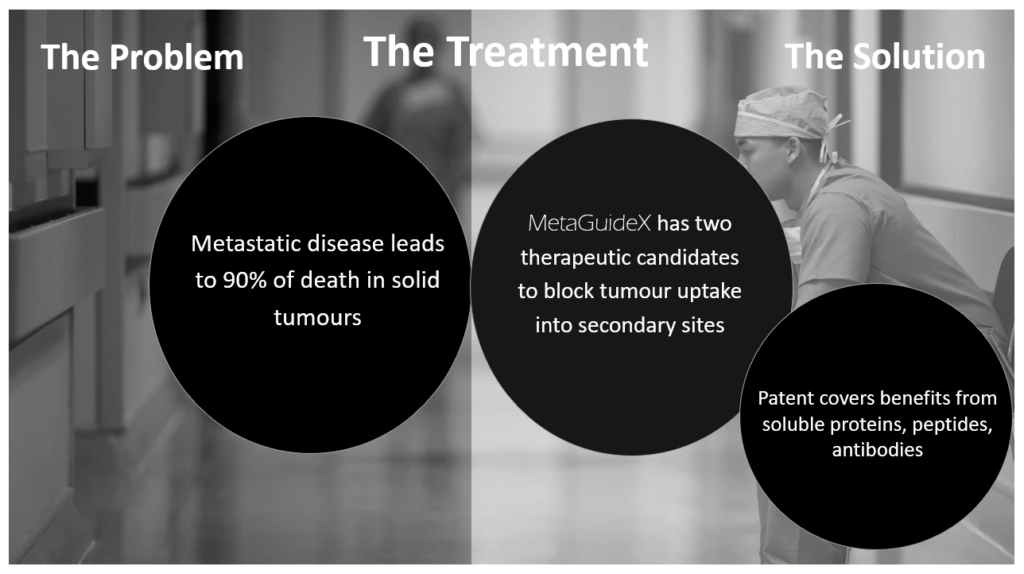 ---
MetaGuideX Management
---
Advisory team
Prof Susan Brooks, Co-Founder/inventor – Glycoprotein expert and clinical study experience
Prof Dave Carter, Co-Founder/inventor – Exosome expert, ex-UK Exosome Society President, Research dir. Evox Therapeutics
Prof Nigel Groome, SAB – Decades of assay and antibody development. Patented prenatal testing assays totalling a billion tests internationally
---
Contact us on ryan@metaguidex.com
MetaGuideX Ltd – Company number 12549905