A Novel Approach To Improving Cancer Care
New approaches to in-vitro diagnostics are needed to early diagnosis and monitor cancer progression. We are developing cost effective early cancer diagnostics and monitoring tools that will give clinicians the power to detect cancer in primary care with high specificity and sensitivity.
Early first time clinical testing shows a sensitivity using three novel biomarkers for stage 1&2 detection to be 92% breast cancer, 83% colon cancer and 78% lung cancer covering a third of all cancer types with a single cost-effective test.
Additional IP:
New therapeutics for blocking metastatic cancer are important in both early prevention while therapeutic decisions are being made and expanding patient survival. We are working on a new set of blocking molecules that inhibit the ability for the cancer cells to bind and enter the circulation. The diagnostic offers a novel companion diagnostic for this exciting treatment.
Due to multiple biomarkers now used in the technology we also have the capability to enrich current liquid biopsy genomic and epigenetic tests, to be announced in 2023.
With these tests we will redefine the cancer care pathway.
Contact us on info@MetaGuideX.com
---
---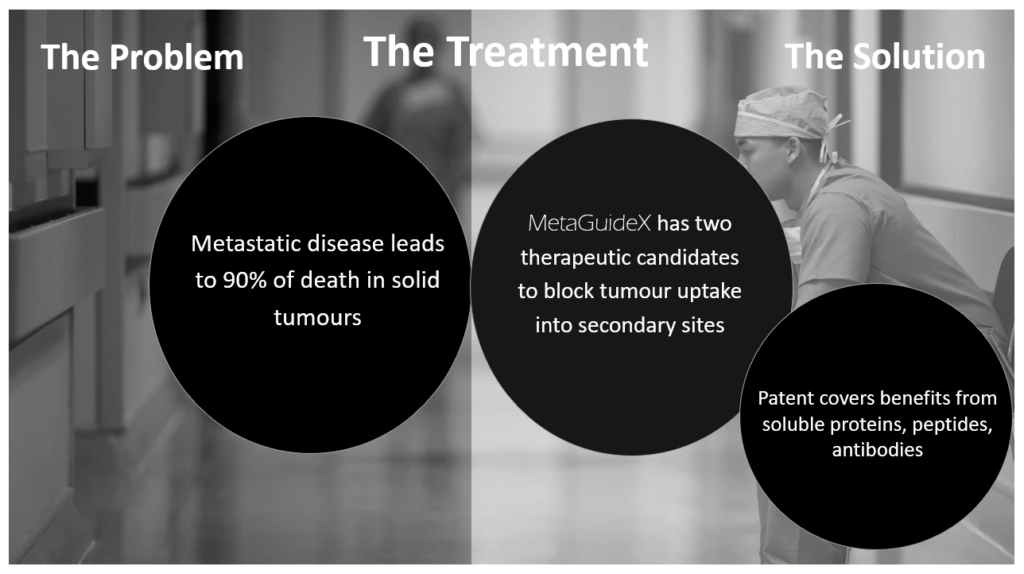 ---
MetaGuideX Management
---
Advisory team
Prof Susan Brooks, Co-Founder/inventor – Glycoprotein expert and clinical study experience
Prof Dave Carter, Co-Founder/inventor – Exosome expert, ex-UK Exosome Society President, Research dir. Evox Therapeutics
Prof Nigel Groome, SAB – Decades of assay and antibody development. Patented prenatal testing assays totalling a billion tests internationally
---
Contact us on info@metaguidex.com
MetaGuideX Ltd – Company number 12549905